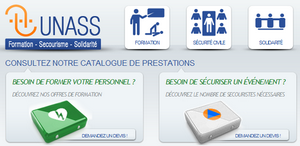 Unass is the site of the National Union of Lifeguards Lifeguards. It includes all the major associations of aid from France.
In 1970, the National Union of Associations of Lifeguards and Lifeguards PTT (UNASS) is created to unite and coordinate action and development of various departmental associations.
Present throughout the country through 102 departmental associations, rescue workers de la Poste and France Telecom are now about 32,000 owners of 5600 which CFAPSE and 600 monitors.