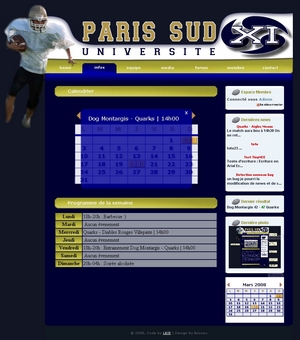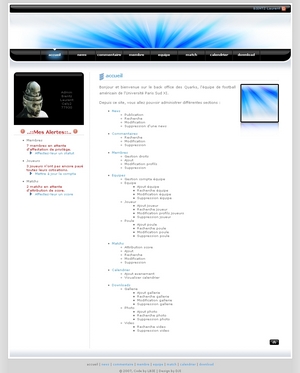 Quarks contains two websites carried out between October 2007 and March 2008 made for the Association of American Football at the Paris Sud XI University.
I code this two websites in two distincts due of the lack of customer responsiveness and a lack of time.
The realization of the back office has made 2 months in late 2007, there is a big part of design having regard to the consistency of the project.
The customer wanted make on his website :
News

Publication
Search
Modification
Delete

Comments

Search
Modification
Delete

Members

Management rights
Add
Modification profiles
Delete

Teams

Management accounting

Team

Add
Search
Modificatio
Delete

Player
Group

Matchs

Attribution score

Add
Search
Modification
Delete

Calendar
Downloads

Gallery

Add
Search
Modification
Delete

Photo
Video
It result a large number of working hours. Further east, in late 2007, I developed always in PHP4 without MVC. Reusability of the code was very limited.
Beginning in 2008, I begin the Front Office, this time with my draft of MVC framework in my pocket:) And here, we are really perceive the advantage of if. The time saved was enormous, the code changed easily, demands for development are fast, and a readability tenfold !
The requested features were:
Informations

Display / Pagination news with management comments
Viewing a yearly calendar planning + calendar weekly

Team

Display profiles' players
Real time calculation of the league's ranking

Grade
Nb won matchs
Nb tie machs
Nb loose matchs
Goal differences

Team' statistics


Balance
Played matchs
Years slices
Height slices
Weight slices
Availability
Confrontations between several teams

Medias

Photos galleries by event / match
Videos galleries

Members

Management registration with validation by mail
Change players status
Profile of member + player

Contact

Terms of Registration
Useful infos
Where we find
Partners / Suppliers

Forum
The client wanted the site more functional / intuitive as possible. This results in a side bar that displays rapid continuous (and scrolling) the following info :
Login box / member profile
Last 10 news
Last Quarks' result
Last photo
Calendar