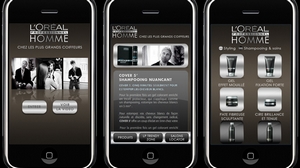 Website dedicated exclusively to iPhone market to ensure the promotion of exhibitions and brand L'Oreal Professionnel Homme created for the Elle Est Belle company's account.
Offering an overview of the brand and product, listing of the various salons offering the service as well as a return user notes and comments, this website would allow any customer with an iPhone to find the salon nearest its location, and to establish a baseline of all the salons L'Oreal.

This small project has allowed me to get initiated to technologies for the iPhone.