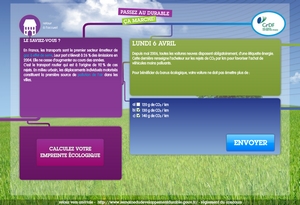 GrDF - Développement Durable is an intranet website created for the Elle Est Belle company's account
This website was developed from the desire of GrDF to achieve a contest to educate its employees during the week of sustainable development.
Thus, this website offers a daily multiple-choice question on the theme of sustainable development with a daily winner selected at random and the final winners.
This small site, in flash exclusively for the user (by Alexis Czornomaz, project manager in Elle Est Belle), enabled me to set up beautifuls crontabs for draws winners and served me especially in the use of amfphp.