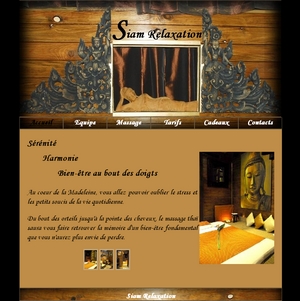 Siam-Relaxation is the website of a Thai massage salon located in the heart of the Madeleine.
This revision takes place in a referral concerns. Indeed, the old site was full flash, which had a disastrous result for referencing.
The site is basically a "port" of flash to xHTML website with minor modifications.
From a functional point of view, this site serves merely as a showcase and displays:
Presentation team masseur
Different types of massages available
Rates
Photos
Contact
Technologically speaking, it is reduced to basics languages xHTML / CSS / JavaScript.