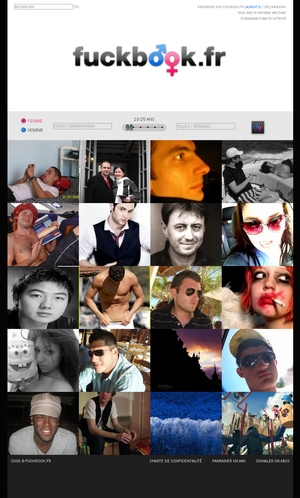 Fuckbook is a free website meetings for adults developed for the Elle Est Belle company's account in the beginning of 2009.
This website allows registered users to meet future partners under the age of 2.0.
It offers the following features :
Register / Login
Search users by geographic, sex, age, and guidance
Managing photos
Full Webmail
Invitation system
Viewing user profiles /user photos
Manage friendship (here fuckfriends)
Manage virtual money (here fuckcash)
External sponsorship directly by msn, gmail, yahoo, etc
Management of its account, forgotten password, etc
This website has once again been built on SillySmart and the great innovation of this website is it's in full Ajax; mean that all user interactions (without the exception of the 1st visit, the confidentiality contract and forgotten password) are conducted on the same page.
Seconded by Mootools and the prowess of Florian Collot, Fuckbook akin to a heavy application like Flash, without being one!